President Akufo-Addo on August 7, 2020, swore in some six Justices of the Court of Appeal in a brief ceremony at the Jubilee House.
The newly sworn in Justices were Justice George Koomson, Justice Edward Amoako Asante, Justice Novisi Afua Aryene, Justice Eric Baah, Justice Richard Adjei-Frimpong, and Justice Cynthia Pamela Akotoaa Addo.
They are eminently fit and qualified for the position of Justice of the Court of Appeal and have the impartiality of mind and independence of spirit to hold this high office.
The President charged the newly sworn-in Justices of the Court of Appeal to carry out their duty of adjudicating cases without fear or favour, affection or ill-will.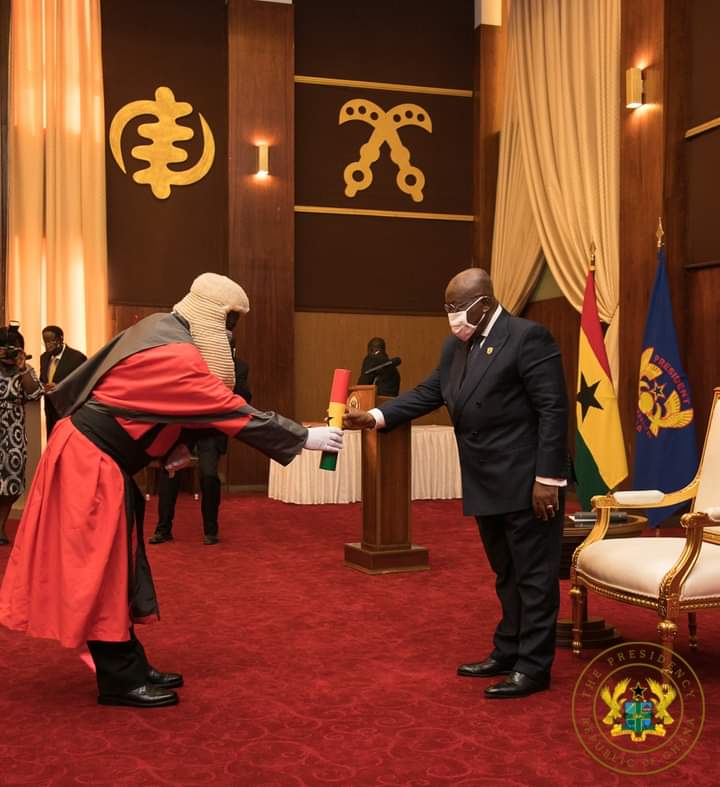 "To our new Justices of the Court of Appeal, it is important to bear in mind that the growth of our nation demands that we have a judiciary that commands the respect of the people by the quality of its delivery of justice as well as the comportment of its judges," President Akufo-Addo said.
"Application of the laws of the land must occur in the words of the judicial oath you have taken, without fear, or favour, affection or ill-will and therefore, without recourse to political, religious or ethnic affiliations of any citizens of the land," the President added.